Pollution is an unwanted extra to the tourist industry. It comes in many different forms and is both natural and man-made: it consists of seaweed, tin cans, bottles, plastic, wood, paper, cardboard, rope, broken glass plus human and animal excreta and oil pollution. Items such as oil, seaweed, animal excreta and sea coal are unsightly. A few of these are actually dangerous to both human and animal life.
Any of these problems could leave public beaches totally unusable and thus financially cripple coastal tourism industry which is the major form of income for most of these areas. Regrettably due to our pre-packed and containerized products and increased shipping and hazardous cargoes the problem can only multiply, which is why the 300HD has been designed as a quick and cost effective method of combating the situation.
The 300HD is towed behind an agricultural tractor of around 60 horse power, of 2 or 4 wheel drive configuration depending upon the terrain conditions. The machine cleans the sand or grass through rows of spring loaded tines, these tines penetrate the sand and flick the rubbish against a mould board, this is then conveyed up an elevating belt and into a fully hydraulic skip at the rear. The skip is operated via 4 hydraulic rams, 2 for raising and 2 for tipping. It is capable of lifting to a height of 2.47 metres and can tip into a standard stationary skip or lorry. The machine's mechanical collecting mechanism is operated from a standard 6 spline, 540 rpm powered take-off shaft. This drives mechanical chains and sprockets through a gear box and a slipping clutch, which is designed to prevent accidental damage. The raising and lifting of the machine is via the tractor's 3 point linkage. All the controls for the beach cleaner are within easy access of the operator which facilitates smooth and easy operation of the beach cleaner.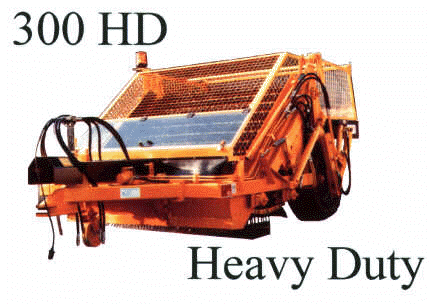 There are only three items to connect the machine to the tractor
a 3 point linkage
independent tipping pipes
the power take-off shaft.
The unit is capable of cleaning an area of approximately 27,000 square Metres per hour. It is, therefore, obvious to local authorities who have the responsibility for beach areas that the 300 HD is an invaluable tool which is needed to promote tourism and maintain their most valuable assets.
The 300 HD has remarkable capabilities on grassland areas, football pitches, racecourses and land reclamation sites, and is capable of collecting leaves, paper, stone picking and flymown grass clippings.
Numerous minor and serious accidents occur from broken glass both on and below the surface, for which authorities could be held legally responsible if adequate cleaning
The GoodeEquip 300 HD Beach and Oil Pollution Cleaner is manufactured entirely in the E.C. Designed for heavy duty all weather use and suitable for virtually all types of beach; SOFT, HARD, WET or DRY and, pebble beaches; unit can be towed behind most types of agricultural tractors, preferably 4 wheel drive when on soft sand.
The 300 HD has a working width of l.8 m and is capable of operating at up to 30 kph dependent upon ground conditions and has the capacity to clean 27,000 square metres per hour under optimum conditions

Remember
the 300 HD is capable of removing bottles and, broken glass, syringes, plastic containers, seaweed, papers, cans, fish, nappies, effluent solids, stones from 10 to 120 mm, wood, rope
and it is especially
efficient on tar balls


Even beaches polluted by coal dust are cleaned by the 300HD which leaves the sand evenly distributed in its wake.
GOODE EQUIPMENT LTD
The Plant Yard, Matlock Road, Wessington, Alfreton, Derbyshire DE55 6BZ
UK tel: (01773) 521321
UK fax: (01773) 521345
International tel: (+44) 1773 521321 International fax: (+44) 1773 521345
email: goode@globalnet.co.uk
(Contact Albert Goodman and mention Internet)